Description
Uno R3 Super Starter Kit Features
 Comes with a detailed and user-friendly tutorial: Free PDF tutorial with more than 22 lessons available for download
 A great way for the beginners to get started with Arduino programming
 All modules are ready to use, no soldering needed
 Durable Plastic Storage Box Included: helps you keep its small parts organized and easy to find
 100% compatible with Arduino UNO R3
 Satisfaction Guarantee: Our Plusivo UNO R3 Super Starter Kit is backed by our manufacturer's 30-day money-back guarantee.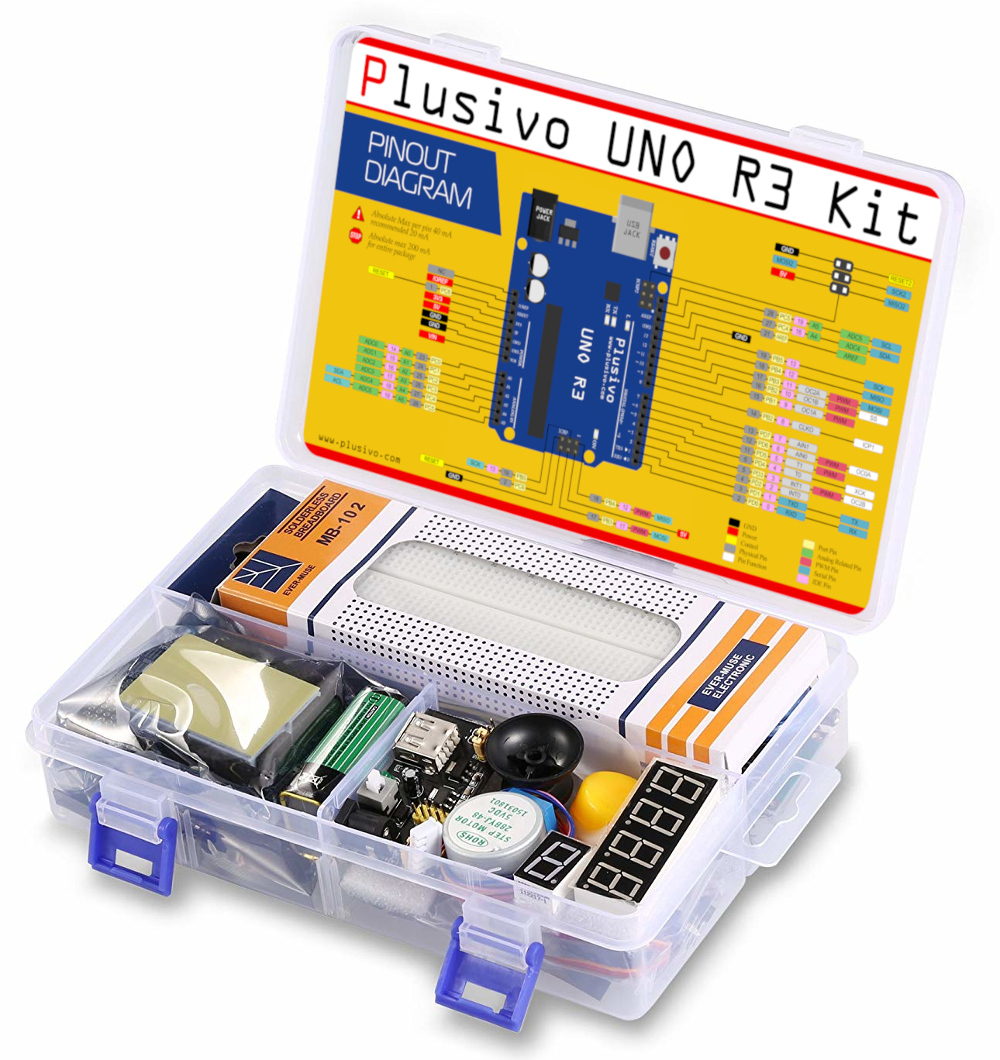 Everything you want, need and desire with the Plusivo UNO R3 Super Starter Kit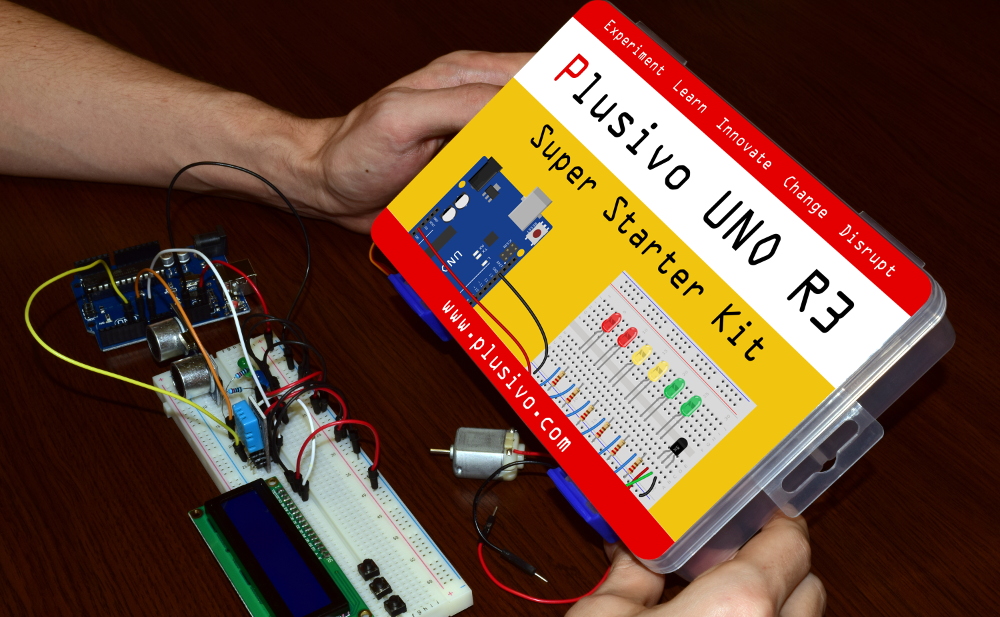 What You Want

A basic beginner kit for Arduino development with all the necessary components jumpstart your interest in learning or making your own Arduino programming projects.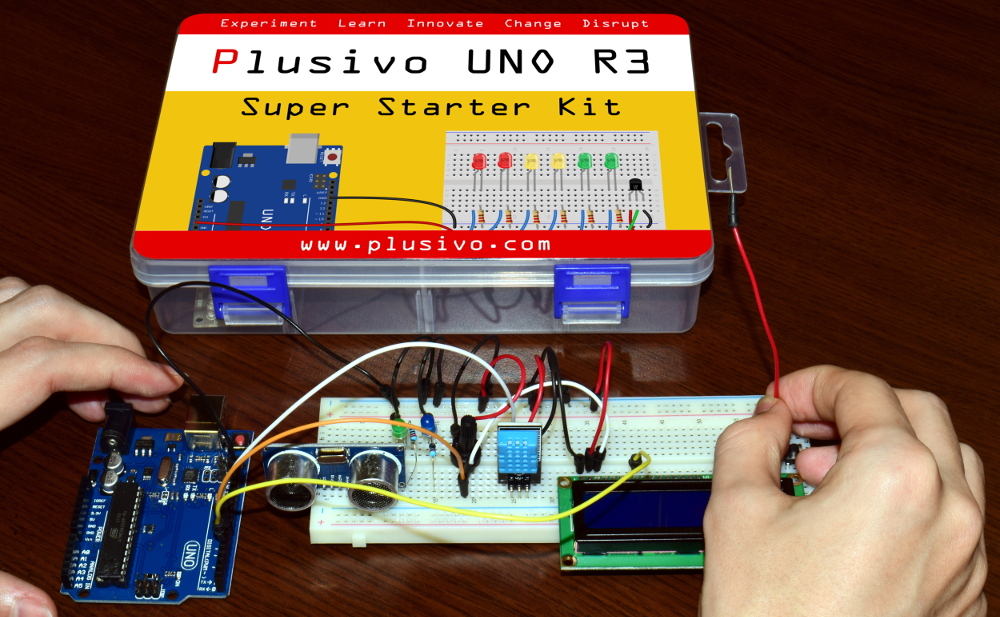 What You Need
A complete Arduino starter kit that includes a development board fully compatible with Arduino UNO R3.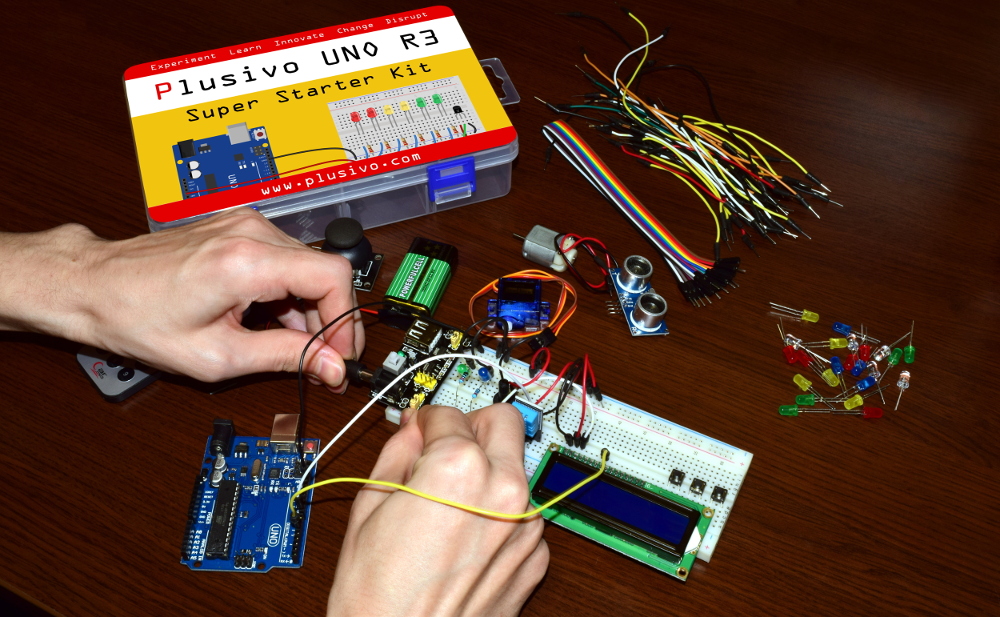 What You Desire

A high-quality Arduino UNO starter kit with detailed instructions and tutorials for beginners.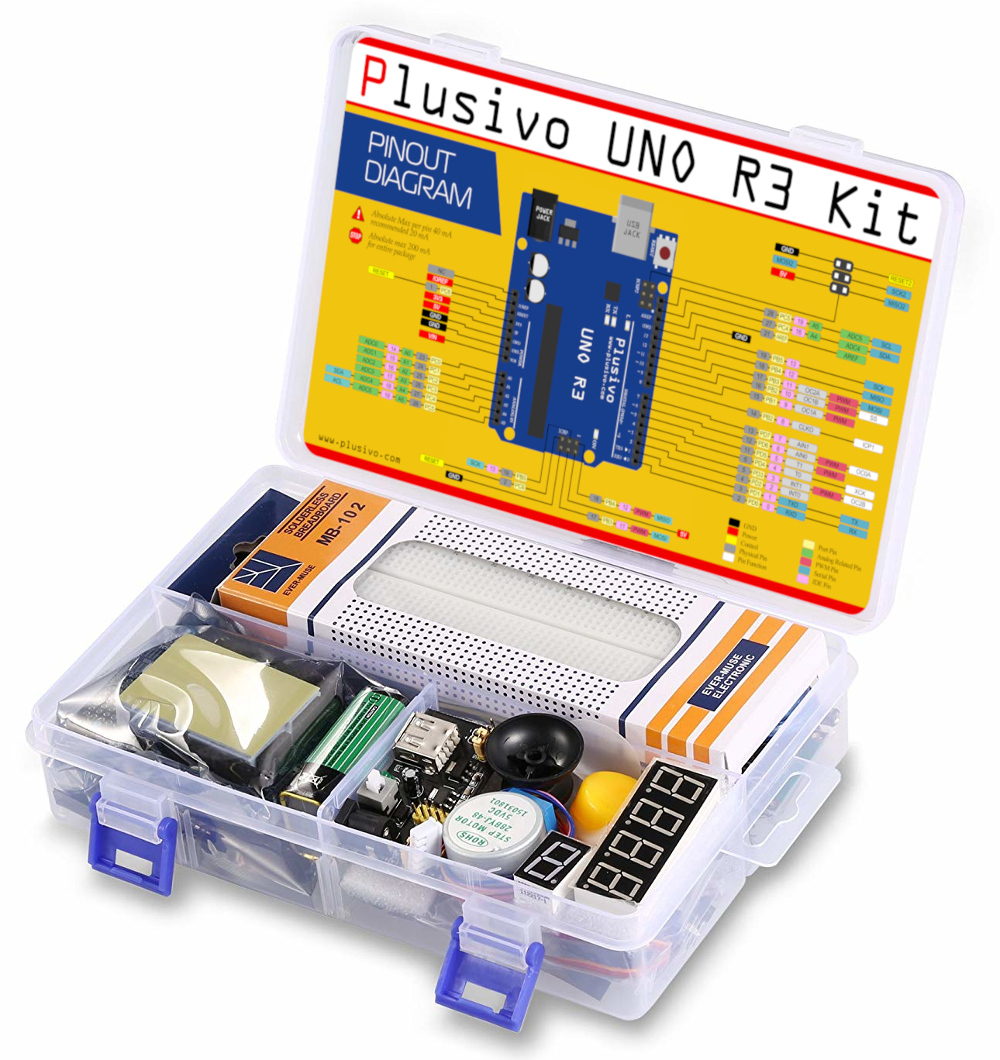 What You Get

• 1pc Power Supply Module
• 1pc Joystick Module
• 1pc Ultrasonic Sensor
• 1pc 5V Relay
• 1pc DHT11 Temperature and Humidity Module 
• 1pc IR Receiver
• 1pc Toy Fan
• 1pc Toy motor 
• 1pc UNO R3 Controller Board
• 1pc ULN2003 Stepper Motor Driver Board
• 25pcs LEDs Yellow, Blue, Green, Red, White (5pcs each color)
• 1pc RGB LED
• 1pc Shift register 74HC595
• 1pc Thermistor
• 2pcs Diode Rectifier (1N4007)
• 2pcs Photoresistor
• 1pc Tilt Switch
• 2pcs NPN Transistor (PN2222)
• 1pc Breadboard Expansion Board
• 1pc Passive Buzzer
• 1pc Active Buzzer
• 5pcs Button (small)
• 1pc 1 digit 7-segment Display
• 1pc 4 digit 7-segment Display
• 1pc DC connector
• 1pc L293D
• 1pc USB Cable
• 1pc Breadboard 830
• 1pc IR Remote Controller
• 120pcs Resistor
• 1pc Breadboard Jumper wire
• 1pc Servo Motor (SG90)
• 1pc ULN2003 Stepper Motor
• 1pc LCD1602 Module ( with pin header)
• 10pcs Female-to-male Dupont Wire
• 1pc Potentiometer
Uno R3 Super Starter Kit Getting Started Guide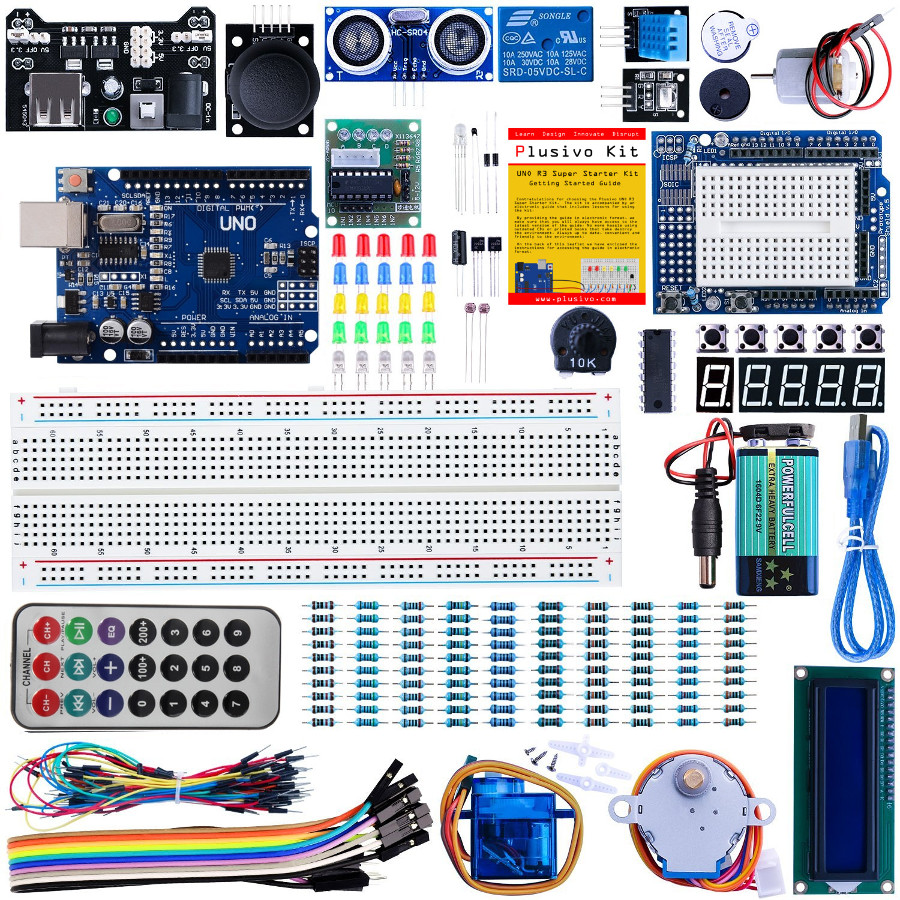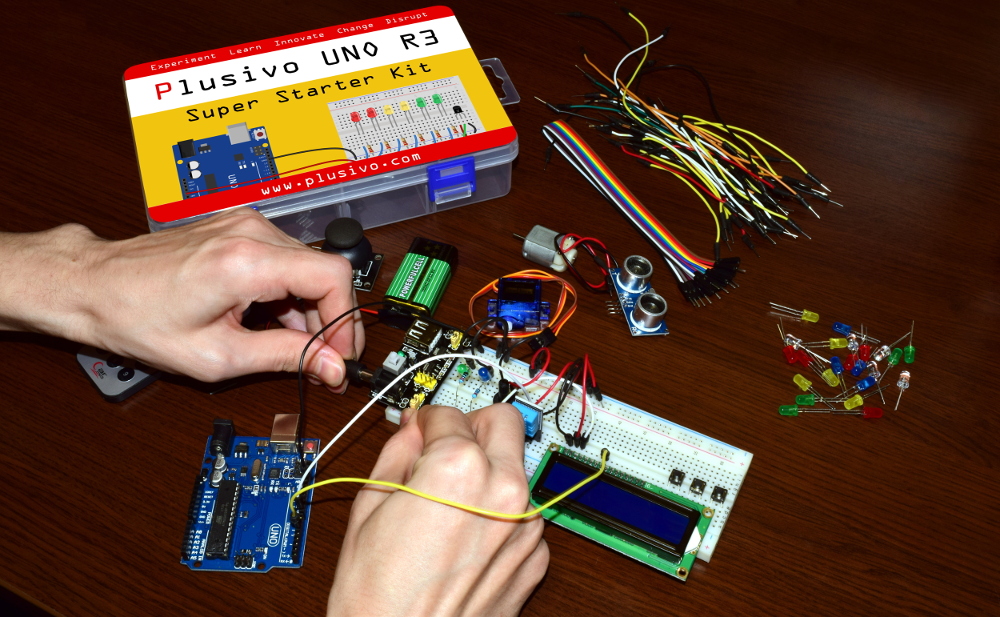 22 lessons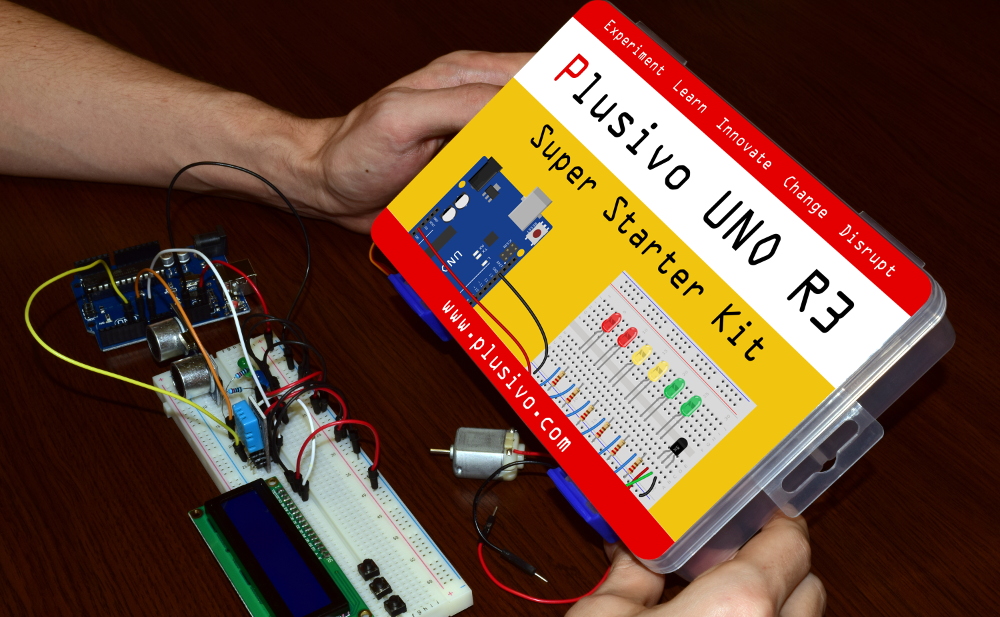 Complete starter guide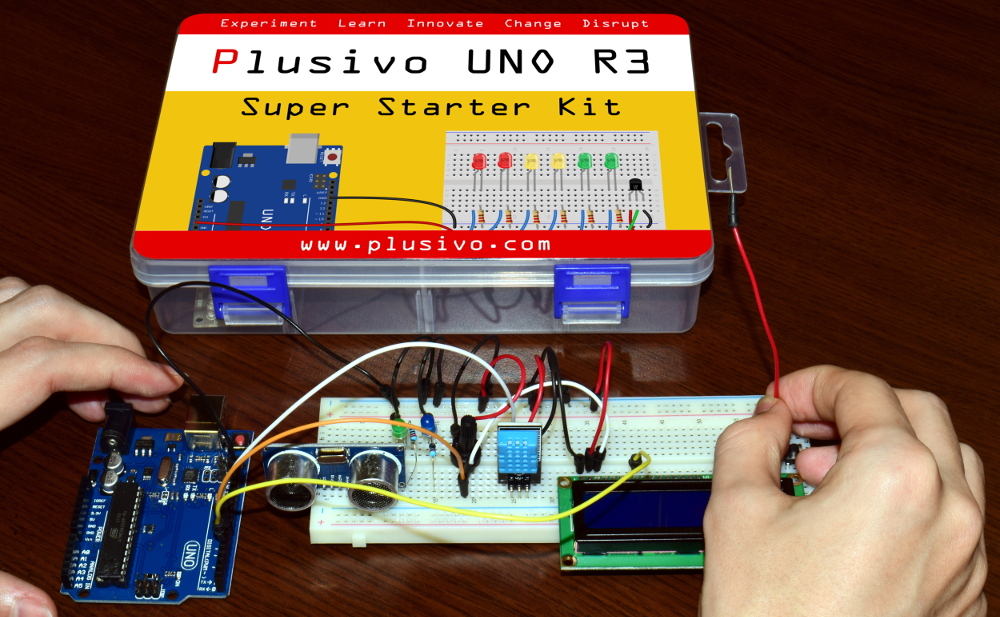 Fully compatible with Arduino